Netcraft provides usage statistics for mod_perl, grouped by host name or unique IP addresses, which we collect here every month to create a graph displaying the evolution of mod_perl usage.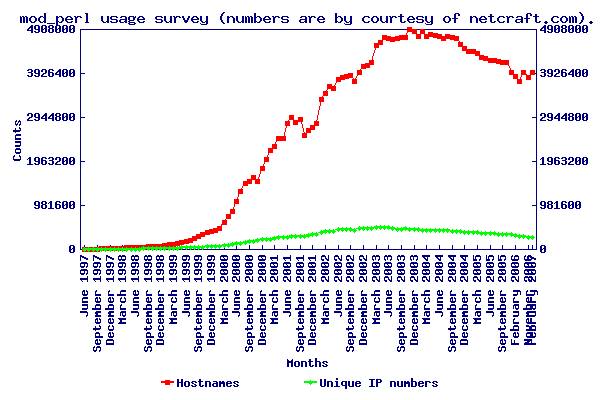 The script that produced this graph and the raw input data is available.
If your site is running mod_perl, tell the Netcraft survey.
| Survey | Hostnames | Unique IP Addresses |
| --- | --- | --- |
| February 2007 | 3950866 | 272132 |
| November 2006 | 3846469 | 275126 |
| August 2006 | 3950948 | 290540 |
| May 2006 | 3758173 | 300026 |
| February 2006 | 3853716 | 314167 |
| November 2005 | 3954884 | 326315 |
| October 2005 | 4166819 | 332566 |
| September 2005 | 4171815 | 335777 |
| August 2005 | 4193477 | 337853 |
| July 2005 | 4223875 | 346042 |
| June 2005 | 4208891 | 355845 |
| May 2005 | 4271554 | 361500 |
| April 2005 | 4280199 | 367110 |
| March 2005 | 4366328 | 372162 |
| February 2005 | 4408975 | 377475 |
| January 2005 | 4417422 | 383667 |
| December 2004 | 4478913 | 388092 |
| November 2004 | 4567088 | 393757 |
| October 2004 | 4697847 | 404247 |
| September 2004 | 4735563 | 409956 |
| August 2004 | 4742739 | 416808 |
| July 2004 | 4717106 | 421360 |
| June 2004 | 4751722 | 427421 |
| May 2004 | 4767652 | 431059 |
| April 2004 | 4805660 | 435010 |
| March 2004 | 4749073 | 433932 |
| February 2004 | 4864343 | 432188 |
| January 2004 | 4746587 | 437794 |
| December 2003 | 4869752 | 450912 |
| November 2003 | 4907712 | 454448 |
| October 2003 | 4720715 | 458887 |
| September 2003 | 4739151 | 451753 |
| August 2003 | 4705370 | 450392 |
| July 2003 | 4691841 | 469832 |
| June 2003 | 4699585 | 479872 |
| May 2003 | 4738526 | 482235 |
| April 2003 | 4607873 | 486411 |
| March 2003 | 4553109 | 491413 |
| February 2003 | 4162825 | 462416 |
| January 2003 | 4108930 | 458057 |
| December 2002 | 4082690 | 461309 |
| November 2002 | 3943776 | 462402 |
| October 2002 | 3753202 | 434418 |
| September 2002 | 3882275 | 438194 |
| August 2002 | 3849195 | 437944 |
| July 2002 | 3826447 | 451408 |
| June 2002 | 3789712 | 437454 |
| May 2002 | 3594884 | 410391 |
| April 2002 | 3633952 | 411314 |
| March 2002 | 3478130 | 393860 |
| February 2002 | 3354370 | 388506 |
| January 2002 | 2819847 | 341458 |
| December 2001 | 2720503 | 326545 |
| November 2001 | 2651419 | 322595 |
| October 2001 | 2540267 | 293633 |
| September 2001 | 2899420 | 281192 |
| August 2001 | 2823060 | 283180 |
| July 2001 | 2936558 | 281471 |
| June 2001 | 2802093 | 273827 |
| May 2001 | 2475367 | 265466 |
| April 2001 | 2482288 | 256862 |
| March 2001 | 2298821 | 244201 |
| February 2001 | 2203353 | 230502 |
| January 2001 | 2001011 | 225123 |
| December 2000 | 1811864 | 214467 |
| November 2000 | 1524620 | 197931 |
| October 2000 | 1597399 | 183327 |
| September 2000 | 1508381 | 170758 |
| August 2000 | 1476602 | 152073 |
| July 2000 | 1286714 | 132940 |
| June 2000 | 1080206 | 123008 |
| May 2000 | 852675 | 108327 |
| April 2000 | 736805 | 95994 |
| March 2000 | 612425 | 85749 |
| February 2000 | 478614 | 74515 |
| January 2000 | 418742 | 66239 |
| December 1999 | 411008 | 63993 |
| November 1999 | 384018 | 60116 |
| October 1999 | 342285 | 55688 |
| September 1999 | 282232 | 50334 |
| August 1999 | 248925 | 51413 |
| July 1999 | 202081 | 42183 |
| June 1999 | 183793 | 40484 |
| May 1999 | 156458 | 36976 |
| April 1999 | 134255 | 32570 |
| March 1999 | 112399 | 28482 |
| February 1999 | 103088 | 25854 |
| January 1999 | 81982 | 23742 |
| December 1998 | 72545 | 22598 |
| November 1998 | 63692 | 19239 |
| October 1998 | 64171 | 15055 |
| September 1998 | 57365 | 12540 |
| August 1998 | 54450 | 12438 |
| July 1998 | 47068 | 9904 |
| June 1998 | 42508 | 9237 |
| May 1998 | 39535 | 8682 |
| April 1998 | 33696 | 6980 |
| March 1998 | 30075 | 6439 |
| February 1998 | 25343 | 5607 |
| January 1998 | 16591 | 4343 |
| December 1997 | 14624 | 3814 |
| November 1997 | 13303 | 3431 |
| October 1997 | 12654 | 3045 |
| September 1997 | 7165 | 2256 |
| August 1997 | 1501 | 1228 |
| July 1997 | 1138 | 580 |
| June 1997 | 312 | 239 |